Rubber Necklaces
Rubber Necklaces Up to 75% Off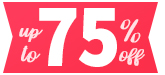 Start your designs with a ready-to-wear foundation using these rubber necklaces. They come complete with a clasp, so you can focus on adding your favorite beads and pendants. These necklaces feature neoprene rubber, which is latex-free, so it's safe for anyone to wear. Simply string beads and pendants onto these colorful strands and you have a wonderful gift for a man or a woman. You can even try embellishing them with large-hole beads for a fun look.
SALE EXTENDED! Our HUGE Memorial Day Sale continues! For three more days, you'll save up to 75% off STOREWIDE! There's plenty of amazing deals to discover so make sure to shop for favorites, stock up on essentials, and maybe even try something new. Artbeads Rewards members will also earn DOUBLE REWARDS POINTS. If you dont have an account, sign up here.
Hurry and shop before this big sale ends the night of Thursday, June 1st.