Bracelet Kits
Bracelet Kits Up to 75% Off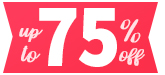 Bracelet kits work perfectly as shimmering accessories, stocking stuffers, or birthday gifts. With everything you need included and step-by-step instructions, you can easily make these bracelets, whether you are a beginner or experienced beader. They are great options for beading parties and anyone obsessed with DIY style. Browse through these kits and pick out the bracelets that will best complement your looks. Then, make sure to find other jewelry-making kits, like necklaces and earrings.
SALE EXTENDED! Our HUGE Memorial Day Sale continues! For three more days, you'll save up to 75% off STOREWIDE! There's plenty of amazing deals to discover so make sure to shop for favorites, stock up on essentials, and maybe even try something new. Artbeads Rewards members will also earn DOUBLE REWARDS POINTS. If you dont have an account, sign up here.
Hurry and shop before this big sale ends the night of Thursday, June 1st.