Satin Necklaces
Satin Necklaces Up to 75% Off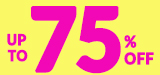 Satin necklaces are a great way to start your jewelry designs with some color. Each necklace features beautiful satin finished with a secure clasp. Slide on large-hole beads, add a pendant, or try other components to make this finished jewelry all your own. They make jewelry designing quick and easy, since all you have to do is focus on how you'll decorate them. You'll love wearing them, too, as the silky soft satin feels nice on the skin and is comfortable to wear.
CYBER MONDAY SALE EXTENDED! Save up to 75% off STOREWIDE. Just think of all of the creative possibilities while shopping for beads, pendants, charms, and more. Plus, as an added bonus, you'll earn DOUBLE Rewards Points when you shop. Learn all about our Artbeads Rewards and if you don't have a Rewards account, make sure to sign up and earn those points! Make sure to also sign up for our email newsletter for exclusive content and links to helpful videos and tutorials to get you inspired. These deals are gone for good the night of Wednesday, November 30th, so make sure to shop!
Shop the deals by discount level here.
All items in this category are temporarily sold out.