Tulip Gift Sets
Tulip Gift Sets Up to 75% Off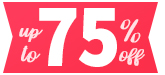 Give the crafter something special or treat yourself to these Tulip gift sets. These sets include a wonderful array of supplies for techniques like crochet, sewing, embroidery, and bead weaving. You'll love the neat, tidy, and convenient packaging of each one. Tulip offers some of the finest quality crafting supplies in the world, so shop these gift sets and discover just how wonderful they are.
SALE EXTENDED! Our HUGE Memorial Day Sale continues! For three more days, you'll save up to 75% off STOREWIDE! There's plenty of amazing deals to discover so make sure to shop for favorites, stock up on essentials, and maybe even try something new. Artbeads Rewards members will also earn DOUBLE REWARDS POINTS. If you dont have an account, sign up here.
Hurry and shop before this big sale ends the night of Thursday, June 1st.