Lampwork Beads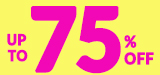 Lampwork beads are handmade by blowing and shaping molten glass over and through a torch, using tools and hand movements to form amazing and intricate designs. This glasswork technique is alive with mesmerizing colors and fascinating details. Gass beads produced in this fashion make excellent focal points in necklaces, bracelets, and earrings. They can even be incorporated into bead embroidery for an unforgettable display. Explore our selection of lampwork beads to find treasures for your collection in a broad array of colors and styles.
CYBER MONDAY SALE EXTENDED! Save up to 75% off STOREWIDE. Just think of all of the creative possibilities while shopping for beads, pendants, charms, and more. Plus, as an added bonus, you'll earn DOUBLE Rewards Points when you shop. Learn all about our Artbeads Rewards and if you don't have a Rewards account, make sure to sign up and earn those points! Make sure to also sign up for our email newsletter for exclusive content and links to helpful videos and tutorials to get you inspired. These deals are gone for good the night of Wednesday, November 30th, so make sure to shop!
Shop the deals by discount level here.