Crimps, Covers & Tips
Crimps, Covers & Tips Up to 75% Off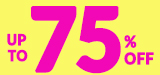 Crimps, covers, and tips are essential beading supplies that will help you bring your jewelry designs together. Crimp tubes and beads are a polished and professional way to finish a strand of jewelry wire, allowing you to securely and easily attach it to a jump ring or other connection point. Crimp covers can be used to hide crimp tubes and make them look like they are part of the design. Bead tips and clamshells are used in a similar manner as crimp covers. They hide knots typically used in pearl jewelry, and also allow you to easily add a clasp to the end of your strand. No matter what you're looking for, all of these findings have a solid reputation for being sturdy and dependable and play an important role in any bead box.
CYBER MONDAY SALE EXTENDED! Save up to 75% off STOREWIDE. Just think of all of the creative possibilities while shopping for beads, pendants, charms, and more. Plus, as an added bonus, you'll earn DOUBLE Rewards Points when you shop. Learn all about our Artbeads Rewards and if you don't have a Rewards account, make sure to sign up and earn those points! Make sure to also sign up for our email newsletter for exclusive content and links to helpful videos and tutorials to get you inspired. These deals are gone for good the night of Wednesday, November 30th, so make sure to shop!
Shop the deals by discount level here.